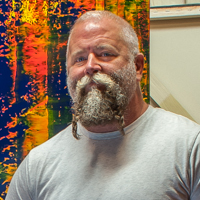 Greg began painting as a new career in 2010. He is currently concentrating on large-scale abstract and figurative works in oil on canvas and wood panel. Growing up in North Carolina, he told his Momma at age 5 that he wanted to be an artist (or maybe 4, she keeps changing the story). Greg began painting in oil at the age of 13 when taught the essentials by his late father, eventually attending art school to study illustration. To his family's dismay, in his mid twenties, he suddenly stopped painting.
Well as you can guess, it was a depraved road of seeking his creative voice in all the wrong places from there. An obscene amount of years were dedicated to graphic design. In 1994 he returned to school to study filmmaking, with a concentration in cinematography. This took him to Los Angeles for seven years where he worked on no-budget short films, music videos, freelanced in design, bartended, and even designed the interior of a famous jazz club, Catalina's, on Sunset Blvd. Yes, it all sounds adventurous and impressive, but he was scraping, let me tell you.
In 2005 Greg relocated to Southwest Washington with his partner and gradually reintroduced himself to his first love, painting.
Greg is a graduate of Ringling College of Art and Design and also of the School of Filmmaking of the University of North Carolina School of the Arts. He lives in Brush Prairie, WA with his partner, where they cope with their addiction to Japanese maples and live in servitude to the Norse goddess Freyja in her Alaskan Malamute form.